Why I Choose Animas
I choose to come to Animas for a few reasons. The first is simply, Animas has much smaller class sizes and student teacher relationships. Another reason is the project based curriculum, which gives you control over your work because it is more hands-on.
One of my favorite things is what we do for physical activities. Instead of a boring gym class, we have the option to go on hikes; go rock climbing; do yoga; and even skateboarding, which allows the students to have a fun activity that suits their interests. All of these reasons, combined with the amazing staff makes Animas a perfect environment for open thinkers and students who love education.
Powered by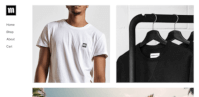 Create your own unique website with customizable templates.